Samir Malik (Edition #22)
Samir Malik (EVP/General Manager, Genoa Telepsychiatry)
If you are interested in reading more interviews, just like this one, with founders, operators, and investors from today's leading companies / startups, feel free to subscribe below!
---
We hope everyone enjoyed July Fourth weekend! We certainly did — though it was definitely different from the July Fourth plans we had in mind just a few months ago. To be honest, the past few months have seemed to fly by, whereas March felt like an eternity.
We're super excited to bring you Edition #22 of The Takeoff, an interview with Samir Malik.
---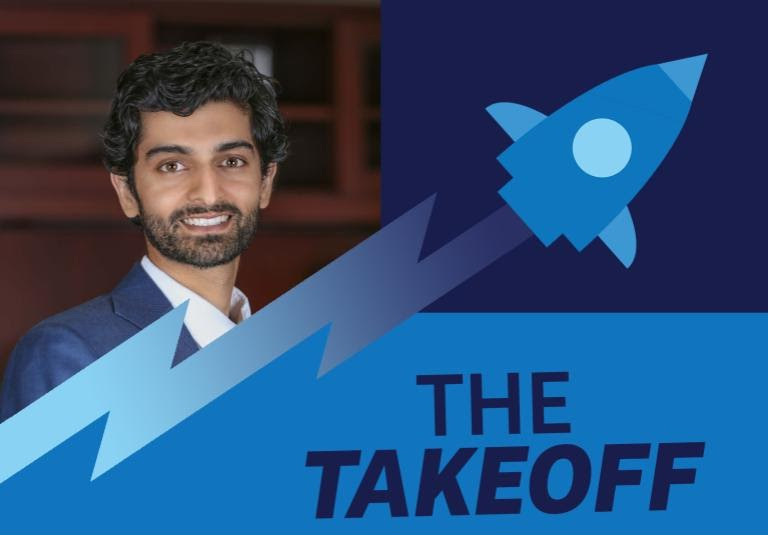 ---
We are excited about today's Edition of The Takeoff. Today's interview is with Samir Malik, EVP / General Manager at Genoa Telepsychiatry.
Samir attended the University of Pennsylvania for both undergraduate and graduate school, earning a BA in Neuroscience, a BSE in Management, and later an MBA in Healthcare Management from Wharton. After undergrad, Samir spent time at McKinsey & Co and CenterPointe Hospital, where he has sat on the Board of Directors since 2010.
In 2011, Samir founded 1DocWay, which was later acquired (in 2015) by Genoa to form Genoa Telepsychiatry. 1DocWay was backed by iSeed VC, Great Oaks, RockHealth, and other notable investors. Genoa Telepsychiatry provides access to psychiatry for underserved communities throughout the US. In 2018, Genoa Telepsychiatry's parent company, Genoa, was acquired by UnitedHealth Group for $2.5B.
Evidently, Samir has a diverse background in both business and healthcare, which is why we were so eager to interview him for The Takeoff.
The interview took place via a call between Samir and Lukas Steinbock (Co-Founder at The Takeoff) in early May.
You can find Genoa Telepsychiatry on Twitter @GenoaTelepsych.
We hope you enjoy today's Edition.
(Estimate reading time = 15 mins)
---

---
Interview Formatting Key:
The Takeoff narrator — in this case, Lukas
The Takeoff interview guest — in this case, Samir
---
Lukas
First, Samir, I would love to hear more about your background and your journey from founding 1DocWay to becoming the EVP (Executive Vice President) at Genoa Telepsychiatry.
Samir
I was working at a hospital back in 2010 or 2011 and saw that there was very little technology being used in the space. You had nurses running papers around, and you had patients signing them on clipboards.

I had friends working in places like Microsoft and I was sharing these thoughts with them and brainstorming ideas. We were seeing a lot of patients get discharged, go out into their community, get sick again, and come right back to the hospital. They weren't getting good follow-up care, and maybe telemedicine could support providers and help patients stay consistent with them during follow-up care.

One thing led to another. We applied to incubators and started talking to customers. Pretty quickly, we started to focus the business: first, on mental health because that's what clinics were saying they would use telemedicine for; then, on Medicaid populations because in 2011, Medicaid was paying for telehealth and other payers weren't; finally, on certain types of facilities where the demand for mental health support was high.

Over the course of the first year or so, just by talking to customers and putting our business out there, we learned pretty quickly that we could fill a huge need by delivering services to Medicaid patients inside of social safety net clinics. We raised some venture money along the way, continued growing the business, and became part of a private equity deck effort, which is when we rebranded as Genoa. We grew that business up until 2018, when we were the largest provider of telepsychiatry in the country, delivering a couple hundred thousand appointments a year. Then, OptumRx, a part of UnitedHealth Group, recognized that we were filling a need that very few people were and acquired the business. That's where we are today, continuing to grow the business inside of OptumRx.
Lukas
Awesome. What are your thoughts on selling to employers as a go-to-market and more generally, what is your go-to-market strategy?
Samir
We spent our early years understanding our market based on just listening to our customers. As an example, in 2012, we were trying to sell our services to nursing homes, hospitals, community clinics, and primary care practices, because all of those have a need for mental health support. Pretty quickly, we learned that sales cycles for hospitals were too long, nursing homes only get reimbursed in certain settings because they're primarily Medicare, and primary clinics have a need but it may be incremental.

Community clinics that focus on mental health have a huge and persistent need. So, our go-to-market strategy was constantly evolving. We were listening to our customers to figure out: what was the product that we needed to build, both from a needs perspective and a business model perspective.
Lukas
Very insightful. I would love to hear more about some of the challenges that you faced in building Genoa. For example, what did you see in terms of the dual-sided market that exists within telepsychiatry? There seem to be more people looking for help than psychiatrists providing that help.
Samir
Great question. There were lots of challenges in creating scale, making sure we were hiring the right team, and understanding our sales cycle. Over this journey, I think there are two fundamental things I would look back on. The first is, how do you make sure you're consistently hiring the best people into your organization, because they're going to help you solve problems in the business. Hiring well has always been a priority. We haven't mastered it today, and there was certainly room for improvement in the earliest days of the business.

The second is credibility establishment. As a startup, you're kind of an unknown. Whomever you're selling to may see you as someone who has a neat idea, but the idea is unproven, the business is unproven, and you, yourself, are probably unproven. The question becomes, how do we create credibility? Do we build credibility through experience, after we've treated thousands of patients? Or, do we gain it by partnering with the right organizations? You have to earn people's trust and, in order to do that, you have to be credible, which always was and continues to be a struggle.

One way we've addressed credibility is focusing on making progress, because the more patients we have treated, the more reliability we have in terms of the outcomes we can create. Another way is hiring deeply authentic people who can show vulnerability and are willing to be humble and say, "I don't know everything but here's what I do know." I think that paves the way to creating more trust and credibility.
Lukas
Great insight there. Next, could you touch on the growth you've seen due to COVID-19 recently?
Samir
Yeah; COVID-19 has created an interesting moment for telehealth and behavioral health, and we're at the intersection of the two. For telehealth, it is no longer an idea. It is a reality. We're now in a world where maybe 70% of care is delivered via telehealth. It's almost to the point where telehealth is almost an afterthought. What is in front of us now is, how do you package telehealth in a way that either delights consumers in a highly effective way, delivers an outcome that was unable to be produced before, or some combination of the two?

If you look at a business like Nurx, Hims, or Roman, they're building amazing customer experience. They're not using telehealth as a be-all and end-all, but rather as a medium to deliver amazing customer experiences. Another way is to use telehealth in unique ways to generate better outcomes. For example, can you focus on a complex population and give them care in their home, thereby reducing no-show rates by allowing people to adhere to their routine? Those are the new themes emerging on the other side of the equation. It'll be interesting to see who goes and chases down the intersection of the two, where you're delivering a superior clinical outcome and you're building a great customer experience. There are businesses trying to do that, like Ginger and Rush.
---
Speaking of Ginger — we have some exciting news coming in a few weeks. Stay tuned :)
---
Lukas
I love the idea of telehealth as an afterthought and looking towards the future. Now, moving on to our advice-related questions. Starting from a more general point of view, what advice do you have for students entering today's volatile job market, especially as it relates to earlier-stage companies? How should companies assess their wants and needs when it comes to hiring talent?
Samir
That's a great question, probably the most important question. My perspective would be, you can't overestimate the importance of getting the first few hires correct. You also want to be creative and create an environment where the people you want to bring onboard can also feel whether you're the right business for them. That's the way we create the most runway to get to know one another.

We say, "Hey, come spend the week with us and we'll see if you're a good fit for us, but you'll also see if we're a good fit for you." We want to know if our culture, our vision, and the way we work is exactly as you would've hoped, because this is a long-term commitment on both sides. So, I think it's important to kind of flip the script and not go straight to interview mode, but give both sides a chance to feel one another out.

Also, I can't overemphasize the importance of having structure in an interview process. Just going off of feel is inadequate. It'd be better to give someone an assignment to feel out what type of work product they produce and have that consistent tool to compare multiple candidates. That can be a really good objective barometer, rather than gut and emotion, which is still valuable but can be hard to use as a singular barometer.
Lukas
That's super interesting to hear, especially from a startup's point of view. In terms of a student's point of view, do you have any words of wisdom, maybe specific skills or attributes that startups are looking for? Or, more generally, any networking tips to help students stand out when it comes to getting hired?
Samir
I think grit and a bias towards action goes a long way. The first person we hired showed up and sat with us for a couple of days. He was quick to jump in and had an idea to buy something and ship it to the customer to help fix an issue. We realized that someone with that action-oriented attitude was what we needed in the earliest stages of the business. Essentially, someone who wasn't pre-wedded to conditions around what work needs to look like, but is looking for what will help get things done.

As we matured, we started to narrow our focus and look for more specific experiences. So, I think the answer would be to understand the stage at which the business is at. The earlier it is, the more you want to showcase things like flexibility, grit, and bias towards action. The later stage it is, the more you want to showcase specific skills or experiences.
Lukas
Yeah, I absolutely love that. I also heard a bit about your acquisition as it relates to networking. Could you touch on networking from a company's point of view and how professionals might be a little more willing to help individuals than we may sometimes think?
Samir
Yeah, I think networking is really valuable, and I would call it credibility-building. The more you are out there talking about whatever you are building, the more the market starts to understand you and know you. I can't tell you how many people I've met over the years who maybe forgot the nature of our pitch but would say, "I remember when you spoke at this event, you were really sharp", or "I remember when you met with this group". It's just showing up that matters most of the time, because you'll have plenty of time to refine the pitch or help people understand the concept, but you have to get out there.

Our first acquisition into private equity was the result of a relationship I had built with a professor back in business school, who knew we were building a telemedicine business and happened to be on the board of a private equity firm that was looking for a telemedicine firm. We wouldn't have been on their radar if not for that random professor connection. One thing led to another and all of a sudden we were on the top of the heap. You never know when those relationships will come in handy. The more people know about you, the more people can advocate for you when you need it.
Lukas
I love that. A bit of a tougher question: if you had one piece of advice you could give yourself when you were an undergrad in college, what would it be?
Samir
Take the risks sooner. I left undergrad and went to work in a consulting firm. I thought that was the right thing to do. I learned a lot in those years, and I met some really great people. Three years after graduating, at the start of the business, I don't know if the things I learned during consulting helped. I could've been two or three years ahead of the curve had I jumped a bit sooner. It's very easy to say, I'll pick up skills in a work environment, but the truth is you'll never learn quite as much as when you're out in the wild without any clothes on. Just get out there and you'll find the learnings are huge and tremendous. It's the steepest walls that create the best learning opportunities. If you're a sharp person, the wall won't be as steep in a traditional job.
Lukas
That's great. A lot of what we're doing at The Takeoff is building clarity for students about the other "career directions" that exist, away from the consulting and investment banking side of things. Finally, how do you stay mentally fit given the high demands of your job?
Samir
That's a really important question. I find that I'm in a privileged place where I've gotten to pick my work environment and my team. For me, it's always been about finding the things in work that don't feel like work. I love the people I work with and the problem we're solving. When I put time into it, it doesn't feel taxing, like it's taking something from me.

Any time I spend on it, I'm gaining something from it. So, if you can design a work scenario for yourself that meets that criteria, you'll find work to be energizing, not draining. From there, some of the mental health concerns are more easily managed. That's not to deny the nature of the issue. Managing mental health is hugely important. I think you can get to a preventative place if you can think about what matters to you from a work environment and try to set it up so it feels as little like work as possible.
Lukas
Really well said, Samir. Thank you so much for taking the time to chat with me. That was some of the best advice I've gotten, and hopefully our subscribers will have the same response.
Samir
Absolutely. I appreciate you inviting me, and thank you for making the time.
---
** Please note that our interviews may be edited for length, content, and clarity **
---
Moderator: Lukas Steinbock (Co-Founder at The Takeoff. Junior at Washington University in St. Louis. Growth Marketing Intern at BlueSprig.)
I'm on Twitter @lukassteinbock 👋
---
Enjoy The Takeoff? Help us grow and expand our impact by sharing our Substack.
If you enjoy The Takeoff, why not help us grow by sharing The Takeoff with your family, friends, coworkers, etc? Sharing The Takeoff with even one person means a lot to us (compound growth!), and we thank you in advance :)
Also, be sure to check us out on LinkedIn and Twitter to stay up-to-date on relevant news and information related to The Takeoff.
Check your email on Friday (July 10) for a new Edition of What We've Been Following.
---