Lori Coulter (Edition #16)
Lori Coulter (Co-Founder and CEO of Summersalt)
If you are interested in reading more interviews, just like this one, with founders, operators, and investors from today's leading companies, feel free to subscribe below!
---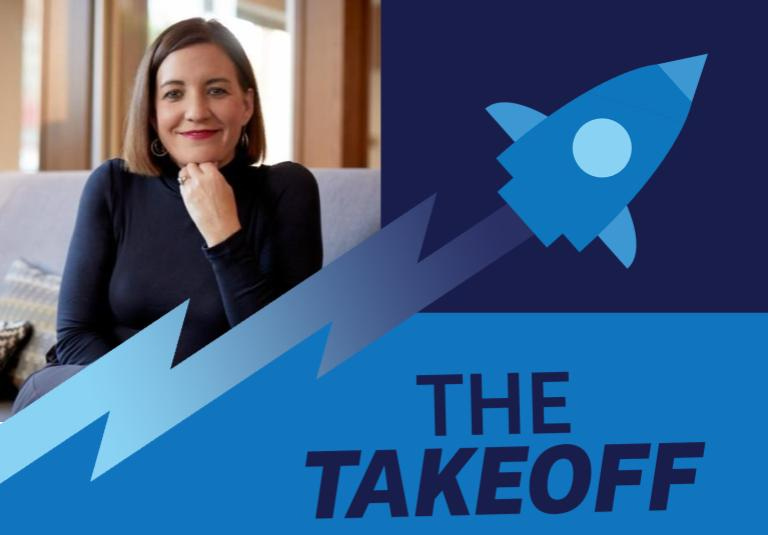 ---
We are excited about today's edition of The Takeoff. Today's interview is with Lori Coulter, Co-founder & CEO of Summersalt.
Summersalt is a direct-to-consumer lifestyle brand disrupting the apparel industry. Summersalt designs and manufactures designer apparel "without the designer price tag." Summersalt was named one of CNBC's World's Most Promising Startups to Watch in 2019 (see here).
Prior to founding Summersalt, Lori founded Lori Coulter TrueMeasure, one of the first retail start-ups to successfully launch made-to-order apparel utilizing digital body scanning technology in major department stores. 
To date, Summersalt has raised over $26M from investors including Mercato Partners, Founders Fund, Lewis and Clark Ventures, Dundee Venture Capital, Revolution's Rise of the Rest Seed Fund, M25, and Cultivation Capital's Twain Seed Fund, among others.
This interview took place via a phone call between Lori and Lukas Steinbock (Co-founder at The Takeoff) in early May.
You can find Lori on Twitter @loritcoulter. You can find Summersalt on Instagram @summersalt.
We hope you enjoy today's Edition.
---
Before we get into it, be sure to check your inbox this Friday for the Third Edition of What We've Been Following. If you've seen anything interesting over the past ~2 weeks that you want us to consider for this Friday's Edition of WWBF, shoot Michael or Lukas a Twitter dm (@mspiro3, @lukassteinbock) with relevant links + what you found interesting from these sources!
---
Lukas: What brought you to founding Summersalt?

Lori: Prior to founding Summersalt, I had been working as an independent designer for over 10 years. We started off with digital body scanning partnerships with major retailers. That business evolved into designing and manufacturing for e-commerce brands, mid-sized retailers and resorts.

I saw that the wholesale apparel and retail industry's business model had been broken for a long time. The shift in the relationship between wholesalers and retailers has really evolved in a negative way, with all kinds of chargebacks and penalties, as well as the effect of slowing down the innovation cycle as it relates to what consumers are looking for.

We started Summersalt on the premise that Summersalt could be the go-to disrupter for modern consumers in the apparel space. Initially, we were focused on swimwear, but obviously the brand has broadened quickly to include all lifestyle garments, including loungewear, pajamas and sweaters which have been really popular this spring. .

Lukas: What exactly is Summersalt? What is the company's mission?

Lori: Summersalt is a direct-to-consumer lifestyle brand for modern women. Our goal, all along, before launching Summersalt was to inspire women to engage with life in a joyful way, harkening back to the days of childhood when we all felt that childlike sense of joy at the beach with sand in our toes.

We really feel that swimwear, in particular, has become such a difficult, emotionally charged garment for women. We want to help overcome some of those barriers by engaging with life in a joyful way; that is what Summersalt is "after".

Lukas: What an awesome mission! Where do you see Summersalt in 5 or 10 years?

Lori: COVID-19 is accelerating disruption in the retail space. Post COVID-19, the retail space will likely be accelerated by ~5 years. We expect to see the continued decline of legacy players and old school business models within retail.

With that, comes an additional opportunity for Summersalt to become the go-to lifestyle brand for modern women, even sooner than we had anticipated.

Lukas: What advice do you have for students entering today's job market, especially in the startup world? What are some key attributes and skills that companies are looking for in new hires?

Lori: I would tell students, especially those graduating in May of 2020, to be patient. The market will turn around; it's just a matter of when. It's a tough time for students and companies alike. We frankly don't know what the future will look like, even in the near term.

Once that clears up, we [Summersalt and other businesses] should be able to begin making decisions about future hires. There are still a lot of industries and career opportunities that should be attractive to students. Working at a startup could be a great option for a lot of students, anything in healthcare, financial services (especially with the PPP program), and FinTech could be great opportunities. A lot of industries and companies are still hiring heavily. That said, it is important to make sure that you are aware of how COVID-19 might affect certain industries and companies when looking for opportunities and speaking with companies. People are still hiring, but it's not evenly spread across the board.

Lukas: How does being headquartered in St. Louis impact Summersalt and the decisions you make as CEO?

Lori: Many of the most transformational consumer brands of the last 50 years, such as Nike, Lululemon, Spanx, and several others, have not come out of the coastal startup hubs. I think there is something in that thesis —  strong consumer brands like Summersalt forge their own way of operating and have broad appeal across the United States, beyond just the coastal hubs.

For consumer brands to be successful, it is about original thought, doing it your own way, and speaking to consumers from a mass perspective, not a niche perspective, in order to get scale. Because of our location [in St. Louis], we are uniquely suited to understand the entire US market, and we're comfortable doing it in a slightly different, [non-traditional] way.

That doesn't mean we don't borrow best practices from startups and companies on the coasts, In fact, our biggest markets are coastal. But, at the same time, we don't alienate the 80% of the country that lives between New York and California. So, being headquartered in St. Louis helps us better appeal to the entire US market.
---
We hope you enjoyed Edition #16 of The Takeoff!
** Please note that our interviews may be edited for length, content, and clarity **
Moderator: Lukas Steinbock (Co-founder at The Takeoff. Junior at Washington University in St. Louis. Co-founder at USocial.)
I'm on Twitter @lukassteinbock 👋
---

Enjoying The Takeoff? Check us out on LinkedIn, Twitter, and Medium. And, don't forget to share our Substack with family, friends, coworkers, etc.! (Link to share is below)