Name Change and Meet the Team
A rebranding and a chance to meet the team at The Takeoff (previously Casting Ventures).
Hey!
It's been a crazy few weeks for all of us. We hope everyone is staying healthy and safe during these tough times. While many things going on in the world may be crazy and unprecedented right now, we believe that there is an opportunity for people to focus on the things that they enjoy the most - whether that be spending time with family, staying active, reading books, learning, or anything else that may be of interest to you. Our advice, double down on those things that you love doing during this incredibly difficult time.
With that, our team is focused on helping to inspire the next generation of great founders, engineers, investors, operators, and more. We have not been releasing much content recently given two-thirds of our team were studying abroad in far off parts of the world, but we are excited to begin releasing more Editions in the coming weeks.
We are also excited to make two important announcements.
First, we are rebranding from Casting Ventures to The Takeoff. We believe that this rebranding and renaming fits more accurately with our goals and ambitions.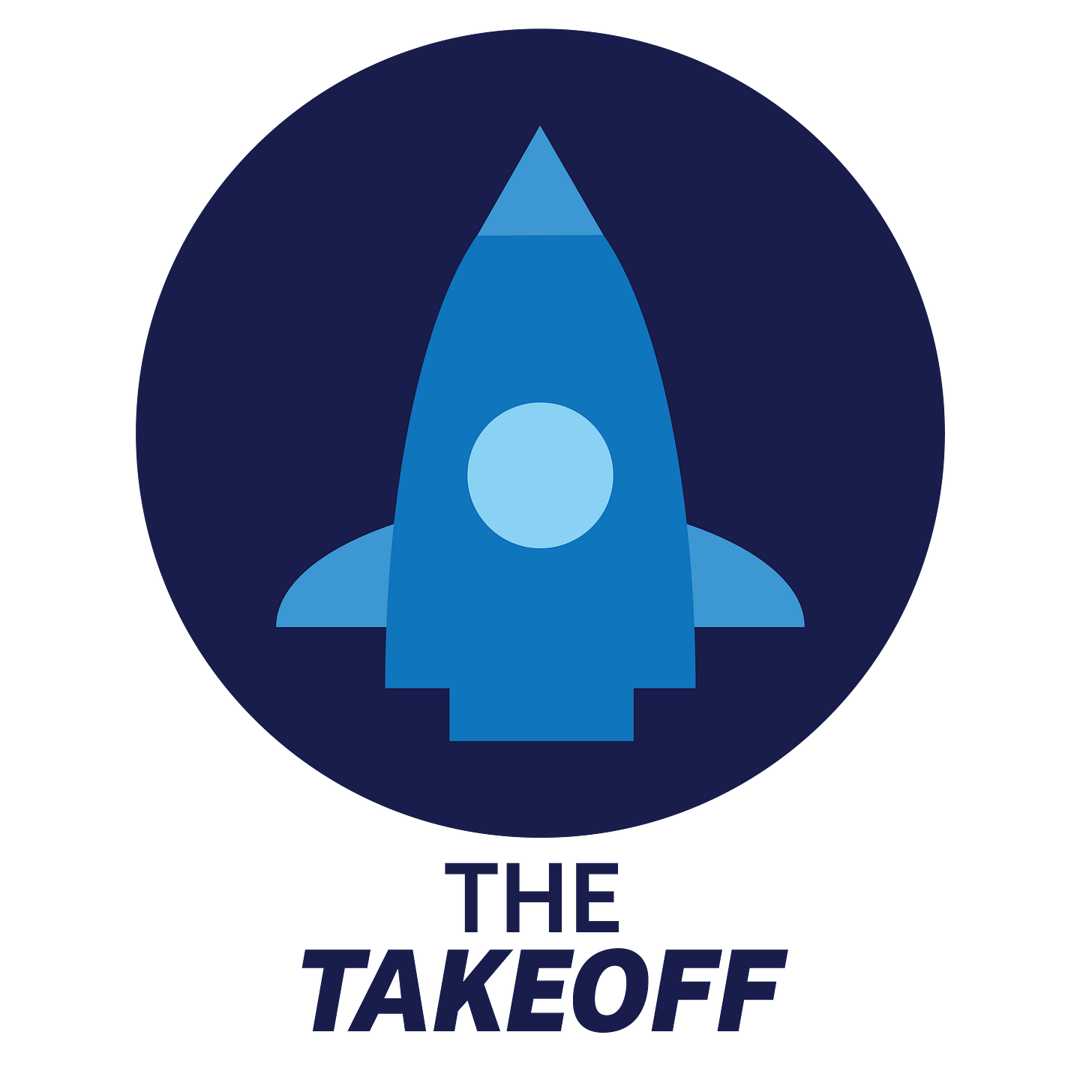 (Logo designed by Mia Harris.)
---
Second, we are excited to share with you our team. We are a group of three undergraduates at Washington University in St. Louis. We are excited to work together to help share the stories and advice of the people behind some of today's most incredible startups and companies, hopefully teaching and inspiring you (our subscribers).

Michael Spiro (Founder): Michael is currently a junior at Washington University's Olin Business School. He is pursuing a double major in Finance and Entrepreneurship. Michael is also the founder and former president of the Washington University Entrepreneur Society, a leading entrepreneurship club for WashU undergraduates. At school, he is also the president of the Washington University Men's Club Soccer team. Michael has experience working for an early-stage SaaS startup (Intello) and two early-stage venture capital firms (Equal Ventures and Ground Up Ventures). This summer, Michael will be interning for JMI Equity, a growth equity firm investing in leading software companies.

Roshan Chandna (Founder): Roshan is currently a sophomore at Washington University's McKelvey School of Engineering. He is pursuing a major in Computer Science and a minor in Psychology. At school, Roshan is the president of the Washington University Entrepreneur Society, a leading entrepreneurship club on campus. Roshan has past experience interning for two SaaS startups — Sumo Logic and Rubrik — and this summer will be interning for Octahedron Capital, a San Francisco based hedge fund started in 2020.

Lukas Steinbock (Founder): Lukas is a junior at Washington University's Olin Business School. He is studying Entrepreneurship and PNP (Psychology, Neuroscience, and Philosophy). Over the past few summers, Lukas has worked in Finance internships in NYC and Newport Beach. The summer after his freshman year at WashU, he worked at Ingalls & Snyder, a Wealth Management Firm in NYC. Last summer, Lukas worked at IMPAC Mortgages, a mortgage lending firm in Newport Beach, CA. Lukas is also the Co-founder and CEO of USocial, an event marketing company founded in the summer of 2018 as an inclusive social scene for college students as the culture of Greek Life has been dying across the country. Like Michael and Roshan, Lukas is also a member of the Washington University Entrepreneur Society.
We are excited about what is ahead for The Takeoff. We hope that we are able to provide you with a lot of great insights and advice from the people we interview. Please do not hesitate to reach out if you have any questions regarding The Takeoff, any of the interviews, or would like to suggest a guest for us to interview! Our email addresses are below :)
We are excited to begin the journey as The Takeoff, and we hope everyone is able to come out of these difficult times a little bit stronger. We are all in this together!
— The Takeoff team
---
Email addresses: Michael Spiro (spirom@wustl.edu); Roshan Chandna (roshan@chandna.com); Lukas Steinbock (lsteinbock@wustl.edu)