Nick Cromydas (Edition # 13)
Nick Cromydas (Founder of New Coast Ventures and Co-founder and CEO of Hunt Club)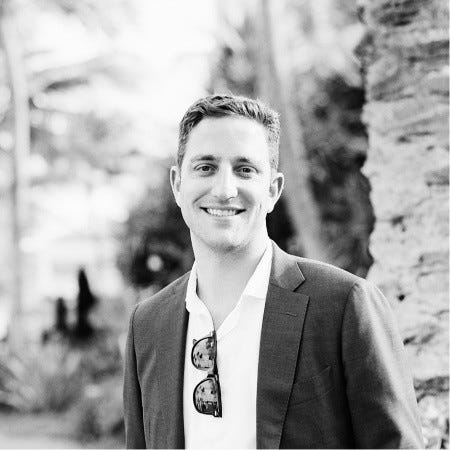 Happy Friday evening! We are excited about today's Edition of The Takeoff. Today's interview is with Nick Cromydas, Founder of New Coast Ventures and Co-founder and CEO of Hunt Club. 
Hunt Club is a primarily bootstrapped recruiting firm based in Chicago, IL. Hunt Club recruits talent for a variety of companies such as Techstars, Pinterest, Verizon, Dollar Shave Club, Knotch, ShipBob, and many others. 
Prior to starting Hunt Club, Nick was a 4-year letter winner on Vanderbilt's Men's Varsity Tennis Team, an Associate at KPMG, and a Mentor at Techstars. 
In this Edition of The Takeoff, Nick offers his insights into the inner workings of a two-sided market and the life of an investor / founder. He also offers advice for students graduating in today's market. Nick graduated from Vanderbilt in 2009 (at the end of The Great Recession)!
---
Lukas: What is Hunt Club, and how did the idea for Hunt Club come about?
Nick: Hunt Club is a new type of recruiting company. We leverage crowdsource referrals from business leaders and experts to help you find your next great hire. That means you can have hundreds of CMOs all referring marketing leaders or hundreds of sales leaders referring your next great sales hire. It's a unique way to approach the recruiting market by really taking in the expertise of people who have been there and done it before.

I started this business because I kept referring people to executive recruiters and they kept getting hired. It just made me fascinated about the space, so I built a business model around it.
Lukas: With a dual-sided market like yours, there is always this chicken and egg problem. Could you expand a little bit more about how you have dealt with that in the past, and now how you've responded to the increasing number of individuals looking for jobs due to COVID-19? How has the other side of the market, the companies, responded within Hunt Club?
Nick: The beautiful thing about our model is that we don't need a ton of supply to service demand. When we get 10 marketing leaders to sign up, they're usually connected to 500 to 2,000 people. That usually gives us a big enough candidate pool to really satisfy what our customers need from a talent perspective. One of the benefits of our business is that it scales nicely on that end. 

The demand-side can be trickier. A lot of people use external recruiting firms or recruiting services but also hire internally through job boards. They have a lot of different behaviors. We really have to figure out who the best customers are for us. How do we find them? How do we get them to know about us? And, how do we work with them?

Scaling demand is way harder than scaling supply in this particular space because it's commoditized. A lot of people have a lot of different providers. In this environment, the demand contract is pretty aggressive. People immediately cut their headcount costs, and then they cut their marketing costs. Things have slowed down a little bit for us as a result of COVID. I imagine it will be slow until the economy reopens. We've been dealing with this by jump-starting other models, and we still have quite a few Boston customers that are growing fast and need our help.
Lukas: How do you balance both investing and being a founder? What are some of the lessons that investing has taught you that operating couldn't, and vice versa?
Nick: I think investing gives you really great breadth, so you get to look at a lot of different things, put some capital to work, and get really good inside access into the inner workings of how both successful and unsuccessful companies do things. It has provided a ton of transparency.

It's usually pretty hard to get into how great operators operate and how newer operators or founders operate, so it's a great learning experience from a breadth perspective. The challenge with investing is that you can only go surface deep into everything, so you don't really get to see the inner workings.

In terms of balancing both, the recruiting business is quite helpful to our portfolio companies. Even if we're not doing a search firm, we're always getting tons of people, so we can make strategic introductions to customers, advisors, investors, or friends of the company. There's just a lot of value. 
Lukas: In 2015, you invested in Hipcamp and their co-founder and CEO Alyssa Ravasio. Have you learned anything from her through the years?
Nick: She's an awesome founder. Always invest in people that are super passionate about what they're doing regardless of the business models that are transparent at the moment. She's always been an example of that, where she's done really clever things to grow her company and her business. They weren't as obvious in the beginning but she was super stoked about the outdoors, so she made it happen. Invest in passionate people. 
Lukas: What advice do you have for students entering today's job market, especially in the startup world? What are some key attributes that you've seen in terms of new hires?
Nick: Jump off the page. Most people I interview for new startups come in with their resume and talk about their experiences. Startups love when people can be creative about finding ways to help the company, or finding ways to really differentiate themselves. One can either help a company get a customer, get an introduction that adds value, or program a small piece of software that is helpful.

The truth is that startups are very atypical, and the successful ones are even more atypical. If you can show that you're different, it'll naturally align yourself with the company.
Lukas: I saw an interesting piece of information about your background, that you were the Assistant Coach for Northwestern's Men's Varsity Tennis Team after you graduated from Vanderbilt. How did that come about?
Nick: I graduated in 2009 during the last recession. That was the only job I could get, and it was a great one. They were number one in the country for a lot of the year. I played college tennis at Vanderbilt, so I have sort of a tennis background. My godsister, which is Greek for bassically cousin, was an All-American at Northwestern, and she asked if I'd be interested. I said yes, so I went there and worked there for a year.
Lukas: That gives us some hope. We students are nowprobably going into a similar situation with COVID-19.
Nick: Yes, there weren't that many options available for me, so I'd encourage everyone graduating to think about what ideas they are passionate about and what they love to do and start trying to build, sell things, or get creative on how they can generate some revenue as a business owner. There is no better time to build a business than right now. I think what's happening with COVID-19 is that it is creating tons of new behaviors and there are tons of new opportunities that can come out of those new behaviors.
** Please note that our interviews may be edited for length, content, and clarity **
---
Moderator: Lukas Steinbock (Co-founder at The Takeoff. Junior at Washington University in St. Louis. Co-founder at USocial.)
I'm on Twitter @lukassteinbock 👋
---

Enjoying The Takeoff? Check us out on LinkedIn, Twitter, and Medium. And, don't forget to share our Substack with family, friends, coworkers, etc.! (Link to share is below)